A Career as a Hairdresser
Day by day, beauty-related professionals are becoming more and more necessary, as people nowadays tend to take better care of their own appearance. A healthy self-image brought on by the experts in esthetics leads to a healthier mind, more work opportunities, and better social interactions. Among the peers in this battle of looks, hairdressers stand out due to their ability to create trends and improve our appearance in a way that not many professionals can. In today's article, let us talk a bit about these game-changers in terms of beauty, the knowledge this profession entails, and a little hand guide to your own business.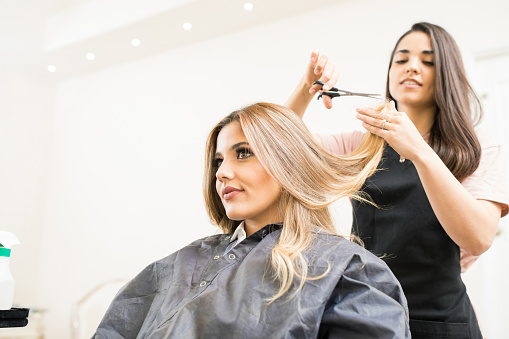 While originally hairdresser's role was to apply the shampoo and conditioners to the client's hair, leaving the rest of the process to the hairstylist, nowadays both are synonyms to one another. Hairstyling as a career can be extremely rewarding albeit quite demanding, even so, the opportunity of helping people feel better about themselves, of creating art from your client, and starting trends that are known regionally, nationally, or even internationally are what, more often than not, attract young talents to this business. With it being a world that is extremely competitive and relentless, we will need all of our wits to be successful. With that in mind, let us talk about how can we stack the odds in our favor by improving two important aspects of any professional: knowledge and tools.
Improving our minds: Best hairdressing schools
The Aveda Institute in West Chester, Ohio.
Voted as one of the best hairdressing schools in 2021, the institute's alumni earn a starting salary of $27,000.  Founded in 1977 by Horst Rechelbacher, the Aveda Institute has brought up Hans Corbella, David Wagner, Jane Jason, and Roxana Dcosta, among many others.
Pivot Point Academy Beauty School in Chicago, Illinois.
Offering one of the most complete programs in hairstyling available, consisting of 13 fields of study, comprising 106 theoretical lessons and 68 workshops. Founded in 1962 by Leo Passage, Pivot Point also offers six courses covering the essentials of hairstyling: Basic cosmetic, hair design, sculpting, color, texture, salon success, and Meta.
Lake Area Technical Institute
Founded in 1965, this institute offers a 15-month program to all students. Adding up to 2100 hours of study and practice, the institute also requires you to complete the South Dakota Cosmetics Commission examination before getting your certificate.
Wisconsin Indianhead Technical College
Boasting one of the highest amounts of alumni in the world with over 1000 undergraduate students, the institute offers financial aid to its students. Offering 50 different beauty programs and a technical certificate, this institute is also a member of and accredited by the Higher Learning Commission.
Opening Your Hair Salon Business
Though maybe a bit daunting, as any big step in our personal life and business can be, opening your own salon is among the best decisions a hairstylist can make, eliminating the middle man and letting their own creativity and drive lead them to success. Now let's give some general advice for aspiring salon owners to start:
Choose an appropriate location. Malls tend to be a prime spot for hair salons, though if no commercial spots are available, or you lack the means to rent one, a place that boasts a high concentration of people can be just as good.
Work on your security. One of the most important aspects that often gets overlooked, security for your business is security for you and your clients. A good safe, or a secure cash register can go a long way to keep your money safe, and good electronic or classic locks, along with secure and strong doors can keep you, your tools, and clients relaxed. Tons of websites offer locksmith services for businesses, with prices to match your budget and high-quality service to boot. 
Show your work. A bit of exhibitionism can't go wrong, hang pictures of your best work, make people see why you are unique and outstanding, show them why old clients come back and new clients should stay.
Be competitive. Make your price and work the best in the area, give people the opportunity of getting to know your work, and stand out among everyone else.
Final words
Nothing ventured, nothing gained. This adage rings true for every aspect of our life, work with excellence, put your soul into every project, make everyone admire what you do, strive for the best in everything that you do, these are the keys for success in anything we decide to do. If you want success as a hairstylist, then give your everything to it and see yourself rise and bloom.