With some guidance, finesse and the right tools, you can create the perfect face-framing curtain bangs. Curtain bangs are ideal for long hair or wearing with a ponytail with tendrils framing the face.
If you're opting to cut your curtain bangs, we recommend cutting your hair while it's dry and in its natural state. When hair is wet, it appears longer. As hair starts to dry, it contracts, depending on the texture. With a dry haircut, the outcome won't be so dramatic. However, the stylist will gauge the length more accurately with wet or dry hair in expert hands.
Section the hair, comb forward and point cut: First, create a perfect center part with a comb. Gather even portions of your hair on each side of the part. Symmetry is important. Pin the remainder of the hair back. Make sure your hair is smooth and tangle-free before you start trimming away. For fuller fringe bangs, create the part farther back on the head. Comb smoothly forward and point cut softer results. Start with the shortest length in the front.
As a guide, use your chin as a marker and don't trim above the chin to start. Point cut to the desired length, beginning with the shortest end.
Create a triangle part: Once you establish your part, smooth out triangular sections of the hair. The hair must be smooth for optimal results. Use a fine-toothed haircutting comb. Comb one side of the section of hair to the opposite side of the forehead.
Cut at an angle: Using texturizing shears or professional shears, point cut at an angle starting from the bottom going up. There's less room for error when you trim more hair in the beginning. Start by cutting less hair to determine how short you want to go.
Blend hair: If not blended professionally, curtain bangs may not live up to their true cool-chic potential. After achieving the desired length of the full fringe, section off small portions of the hair from the front and trim at an angle from top to bottom.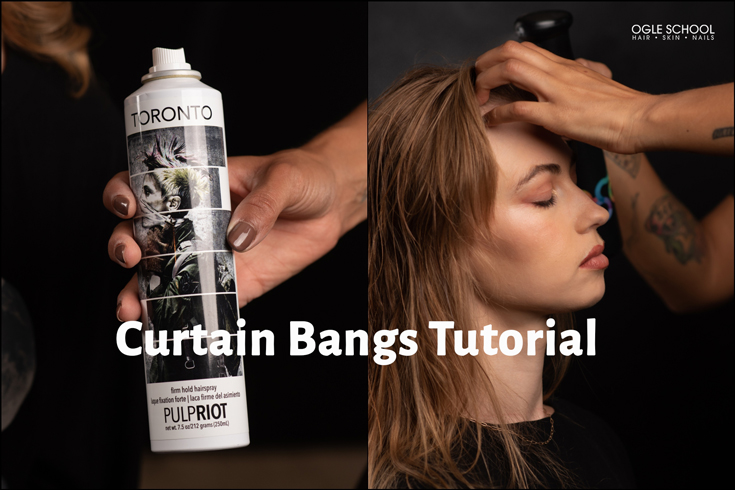 Prep hair before styling: If you cut your bangs dry, spritz hair with water until damp; otherwise, spray a root lift on the damp hair for an effortless bounce and movement once the hair dries. Salon products will virtually always be superior to retail products. Invest in your hair by consulting professionals on the best products to use on your hair.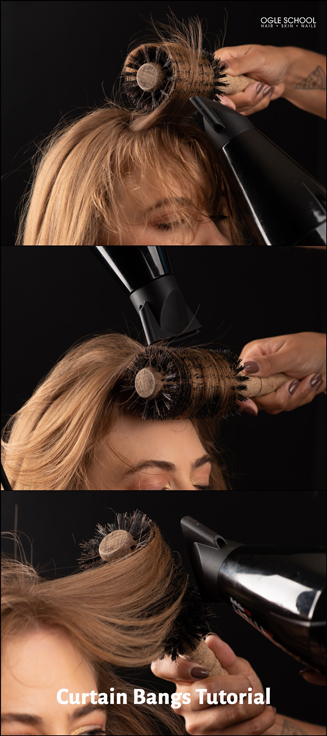 Style hair: Use a boar bristle round brush while blow-drying your hair. Curtain bangs are styled differently depending on the look you want to achieve and the texture of your hair. For an easy swept-to-the-side hairstyle, blow-dry bangs in sections forward and backward.
Add finishing touches: Use your fingers to style and sweep hair into place for a natural-looking bounce.
Voila! The before and after. The curtain bangs is a head-turning style that will flatter any face shape.
To channel the cool, hip sex appeal of the French 60s pop icon Brigitte Bardot, use the volumizing product before blowing out your hair. The result will look flirty and effortlessly stunning.
Finish the look with vintage wide-frame sunglasses. This style is perfect for any season. The layers and flattering face-framing bangs work with any face shape. Curtain bangs grow out great; however, they do require a lot of maintenance. Visit a professional to freshen up your look every four to six weeks.
Curtain bangs look great with a side part or worn with hair up or down.
To learn more about all the Ogle School has to offer, visit our website and request more information.