The star-studded muses of the 70s put curtain bangs and other iconic hair trends on the map. Curtain bangs are a trend that's been weaving in and out of popularity for some time. It's a timeless look worn by beauty icons like Brigitte Bardot and Gabrielle Union. Even Ariana Grande sported curtain bangs, a departure from her slicked-back, lustrous, and long ponytail.
Ditching traditional bangs for curtain bangs will level up a lackluster hair game, no matter the hair type. Whether the length of your hair is short or long, a good stylist (or a great tutorial) can transform your look. If you're looking for a softer, feathered rendition of the typically heavier curtain bangs, you can opt for wispy bangs.
This step-by-step tutorial allows you to create the perfect face-framing curtain bangs that distill a seemingly complex cut into manageable steps.
What Are Curtain Bangs?
Curtain bangs look like they sound––shorter in the middle of the forehead and longer on the sides, draped around the face. Most stylists would argue that they are the perfect bang, with longer, side-swept bangs as a second contender.
If you're bold enough to learn how to cut curtain bangs on yourself but are a bit of a rookie at cutting hair, we recommend cutting with dry hair. When you cut damp hair, it appears longer. You can more accurately gauge the length of your hair when it is dry. Hair shrinks when it goes from wet to dry. If you have more experience cutting your hair and need a refresher, washing your hair beforehand is optional.
Here's what you'll need:
Hair shears
Hair clips
Tail comb
Consider This Before You Commit to Curtain Bangs
Curtain bangs are relatively easy to maintain. The style already blends well with your hair and will grow out in a way that's easy to style with little fuss. While curtain bangs suit most face shapes and can flatter and frame your face when cut properly, there are some cons. Proceed with caution if you have more than a few unruly cowlicks. Stray, stubborn hair that stands up works to your advantage when you want volume in your hair, but it can be a bit of a nuisance with bangs.
To maintain the look, visit a professional every four to six weeks.
Step One
Prep hair. Comb your hair with a detangling comb to ensure the hair is smooth, and create a center part using a tail comb. Collect even portions of your hair on each side of the head and make a triangle shape, combing the hair forward and clipping the remainder of the hair. To maintain the look, visit a professional every four to six weeks.
Tip: For fuller bangs, start further back on your head.
Step Two
Smooth out the triangle part and comb one side of the hair to the opposite side of the forehead, so all the hair you cut is together.
Step Three
Point cut at an angle by holding the scissor vertically and moving the scissors in an up-and-down motion. As a rule of thumb, start by trimming less hair. Use your chin as a guide, and don't trim above the chin.
Tip: Use texturizing shears.
Step Four
Once you achieve the desired length, release your bangs and start blending by point-cutting sections of the hair from the shortest to longest.
Step Five
Spray your hair with water until damp to prepare your hair for styling. Apply a holding spray to the roots for volume.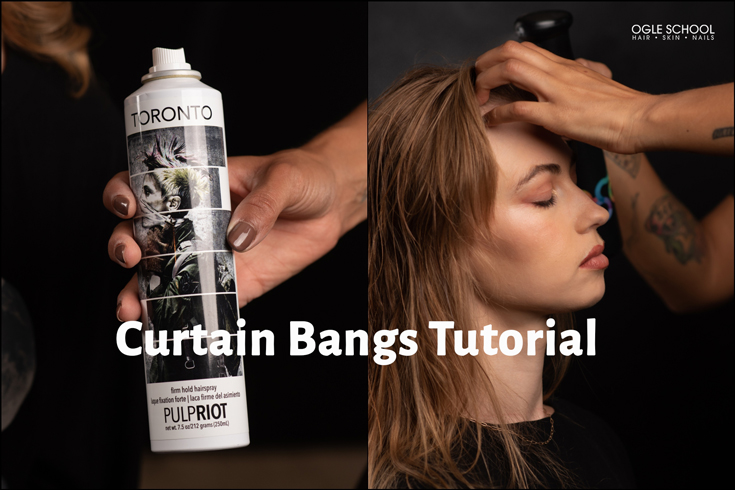 Step Six:
With a boar bristle round brush, blow dry bangs for styling, starting from the roots to the ends.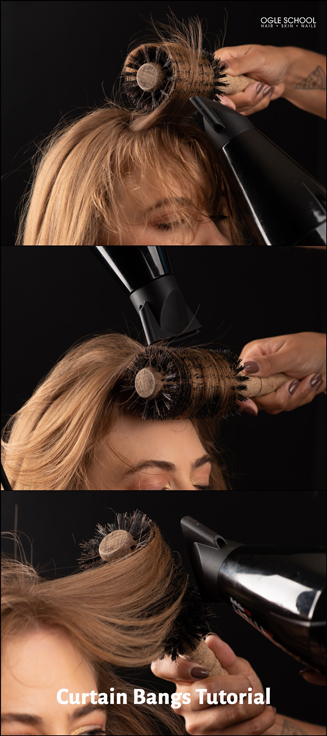 Step Seven
Style hair. Use your fingers to style the bangs the way you want and finish the look with a holding spray.
This classic look has proven the test of time. Once your bangs grow out to your cheek or chin, blending them with the rest of your hair will be easy. Curtain bangs are an easy solution to make you feel like your best self if you're looking for a change without committing to a full cut and color transformation. Get ready for fuller fringe bangs.
Are you interested in becoming a stylist? If you have a flair for styling hair and love learning, cosmetology may make sense as a career path. At Ogle School, our instructors give students personalized attention and help them meet their goals. Learn all Ogle School offers by visiting our website and requesting more information.