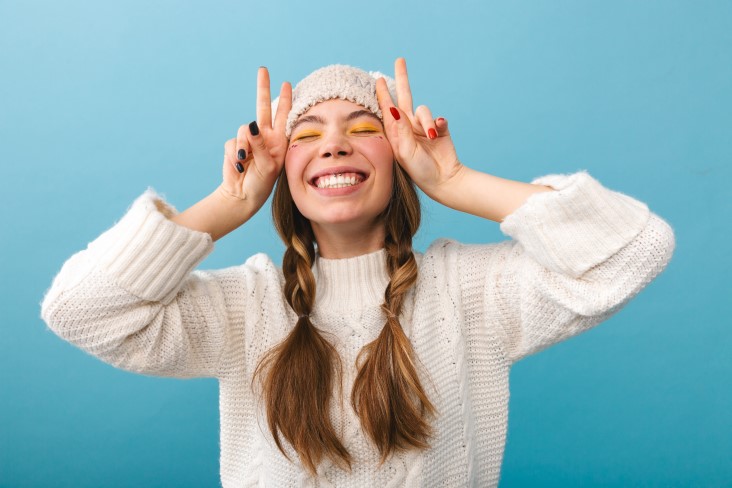 Wintertime is a great time to change up your look — after all, with a variety of new styles, there are plenty of ways for you to express yourself. However, one thing you need to navigate is different hat styles. Whether you're putting on a beanie, pulling up a hoodie, or otherwise covering up, you need a hairstyle that can both keep you warm without a hat and withstand the assault of winter fashion. These hairstyles will work great no matter the length or texture of your hair.
Double Braids
The double braid look is a very cute one in general, and it's super useful for long or medium hair in the wintertime. Not only do double braids sit low enough that you can easily wear a hat or beanie without issue, but you can also pull them forward if you want to wear your hoodie up. It's simple, versatile and overall extremely useful for the winter days when you don't really want to break out all of your styling supplies. Plus, if you want to spice things up, you can always pin them over your head for a lovely milkmaid style.
Low Ponytail
A low ponytail is a low-effort hairstyle that's absolutely perfect for people with very long hair. Obviously, anyone with hair long enough to pull into a ponytail can try this out, but the low ponytail look works best if your hair length really makes an impact. It fits perfectly under a beautiful winter hat or a beanie too. If you want to jazz it up a little bit, try a barrette or a fun stylish hair tie. To make sure you don't end up with flyaways all day, take a spare toothbrush, spritz it lightly with hairspray, and use the toothbrush to brush back any wispy hairs.
Messy Side Bun
A side bun is perfect for people with any length of hair, but it's especially great for those with medium-length hair. Those with very long hair might find it a bit too bulky, but if you really want to go for it, play around with positioning to make sure you get the best look. It's exactly what it sounds like: you create a loose, messy bun, but instead of positioning it at the nape of your neck or the top of your head, you set it just off to the side. This look works best with a very cute winter hat.
Gentle Waves
If you have shorter hair, you're most at risk for having messy-looking hair when you take off your hat or pull back your hoodie simply because you can't pull it back into a ponytail. When you're trying to mitigate that potential for messiness, one of the best things you can do is lean into it. Just because the beach isn't your first stop in December doesn't mean you have to keep your hair away from it. With some beachy waves, you can very easily make it look like the slightly messy style is exactly what you were going for.
Loose Braid
If you don't want to go through with the hassle of maintaining flyaways, especially if you have a medium-to-long hairstyle, a loose braid is absolutely perfect. This style is just barely messy enough to make it simple enough for beginners, but still put-together enough that it works for your day at school. You can even spice it up with a very simple fishtail braid, intentionally teased out just enough that it looks perfectly unintentional. All you really need to do is create a braid in the same way you traditionally would, but then go back and pull out strands of hair to loosen it up.
Conclusion
Just because it's winter doesn't mean you just have to roll your hair up in a simple bun and leave it like that every day. There are plenty of special styles that you can utilize for a truly gorgeous winter look that will look just as nice underneath a hat as it will on its own. Some of these styles can seem a little tricky, but many people pick them up in a snap. If that quick cosmetic learning sounds just like you, have you looked into the Ogle School cosmetology program? It could be the perfect opportunity for you to really utilize those skills.