Being a makeup artist is extremely rewarding work, which is why so many people choose to do it. However, cosmetology is a field, not an individual job. There are all sorts of ways to use your skills once you obtain your degree! Here are a few ways to use your skills as a makeup artist.
Special Effects
Whether it's a movie, a musical, a play, a photoshoot, or any number of other performances, special effects always stand out. If directors need someone to look like he or she has just been sliced to ribbons or beaten to a pulp, they'll be turning to a special effects makeup artist. In fact, special effects makeup is often preferred over computer-generated graphics, because CGI doesn't come cheap.
As a special effects artist, you'll need to learn some specific skills. After all, learning how to create a realistic-looking bruise is much different from learning how to do the perfect cat eye! If this is something that interests you, make sure you seek out tutorials and practice them relentlessly.
Advertisements
The makeup requirements for an advertisement will vary wildly between shoots. If you're shooting for a grocery store item, for example, all the actors will need very natural looks. On the other hand, if you're at a shoot for an up-and-coming fashion brand with exciting styles, you'll need to learn how to do experimental looks.
An important thing to remember about this type of makeup is that it has to be heavier than normal makeup, but not so heavy that it looks caked on. Cosmetology classes can help you learn how much is too much, and how to work with a director to settle upon the right look.
Bridal
The one time that many women will opt for professional makeup is during her wedding. That's why bridal makeup is such an important field to enter. Bridal makeup doesn't always just cover the bride, either; you may be asked to help with makeup for bridesmaids, the maid of honor, the mothers of the bride and groom, or other members of the wedding party.
The important thing to remember about bridal makeup is that it can be incredibly hectic. Tensions run high on the day of the wedding, and you're going to have to conform to the ever-changing whims of the bride and her entourage. Stay up to date on the latest makeup trends and make sure you can maintain a cool, calm demeanor.
Stage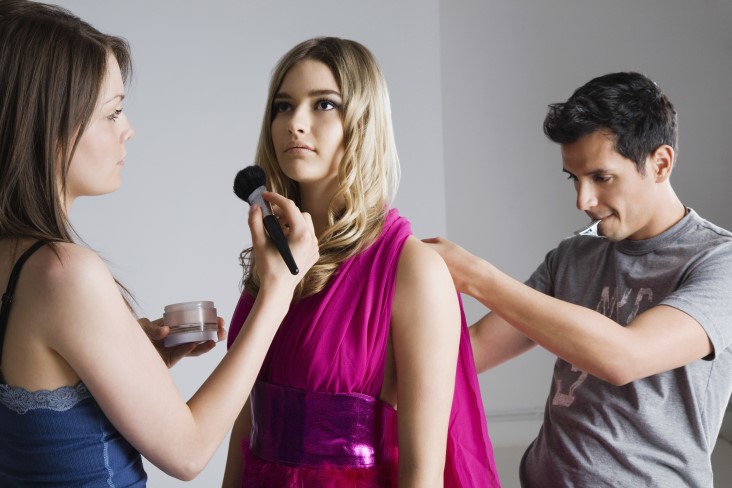 While special effects are great for performances, it's not the only type of makeup that's required. Stage performances require that everyone, both men and women, have makeup applied, and it has to be applied in a very specific manner. Most of the time, stage makeup looks heavy and awkward up close, but when viewed from the audience, while the cast member is under the stage lights, it looks natural.
Learning to apply stage makeup properly is all about being able to disregard your instincts about makeup looking immediately natural. Cheeks need to look rosier, eyes need to look larger, and lips need to look sharper. If you can learn how to emphasize all the right pieces of the puzzle, stage makeup can be a very rewarding field.
Funerals
Although it may seem strange and morbid to some people, deceased individuals having an open-casket funeral need to have makeup applied to look natural. This can actually be an extremely rewarding field. When you do makeup on the deceased, their loved ones can find solace when they see them at peace at the funeral.
To be a makeup artist at a funeral home, you'll need to be a very calm and empathetic person with a strong stomach. You'll also need to learn how to do makeup from pictures; when you do makeup for a deceased individual, you'll be given a picture from when the person was alive and tasked with recreating the look.
Getting a degree in cosmetology doesn't lock you into one field for the rest of your life. If anything, it gives you more options than you could imagine! If you want to become a makeup artist and enter into one of these fields, request information about the Ogle School cosmetology program today. You'll be stepping into a brand new world of opportunity.