It's no coincidence that you feel like your best-looking self when you leave the salon. Having a lousy hair day can force us to tie our hair in a top knot while having a good hair day can prompt us to get off the couch and into the world. Our hair can define us and be transformative, so it's no wonder we spend so much time grappling over hair color.
Colorists spend days, hours, and years mastering their craft. Their skilled eye can turn brassy, unflattering hair color into the coveted shade of ash blonde. 
They can look at your complexion and formulate a color mixture that complements your skin tone vastly better than any color out of the box could achieve. 
A colorist has extensive knowledge of the technicalities of hair color, depth, and tone and works with a range of techniques, including permanent, semi-permanent, and highlighting. They discuss working with hair stylists to create a cut and color that complement each other.
Good colorists are artists. They'll consult you on the best shade for your face and can deliver the desired result with minimal damage. If you're going from black to blonde, then there will be some damage in the bleaching process; however, a good colorist will inform you and approach the process bravely and confidently with the utmost care.
Job Outlook
Maintaining hair color requires repeat visits to a salon, so as you build up a client list, you will generate more bookings as happy customers come back to you to get their roots touched up or for new styles.
The demand for hair colorists will increase within the next ten years. Typically, junior colorists earn less than more seasoned hands, so junior colorists will often get clients who are younger, more low-maintenance clients or clients in search of more economical services. As a colorist advances in their career and their demand increases, and they've mastered their craft, they can earn an admirable pay grade. 
Make it Happen
Education
In order to become a professional stylist and colorist working in a salon, you must earn a certificate from a certified cosmetology school. Like any curriculum, you'll excel at the basics before moving on to advance techniques. You'll learn chemistry and how to achieve different outcomes.
Keeping up with new processes and technologies is essential for a colorist. Once you are qualified and working in a salon, you may be able to take extra courses on different techniques. Some hair product companies offer qualifications in color technology.
You can also network with other hair color specialists by joining a national association such as the Association of Cosmetology Salon Professionals.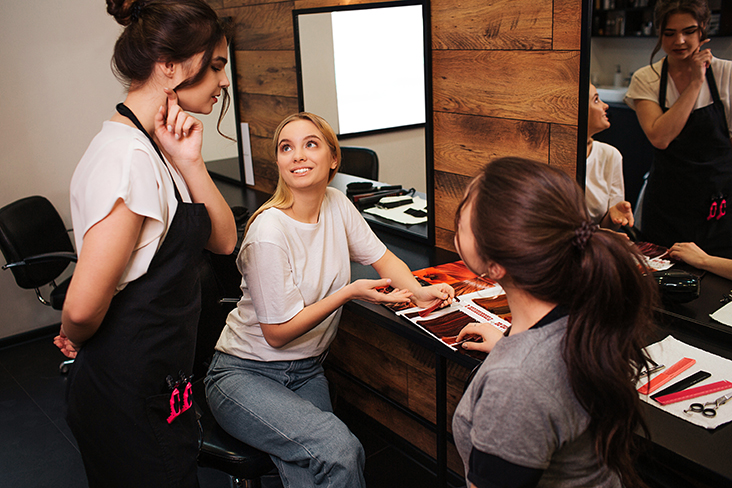 Experience
Your classroom is a creative playground for experimenting, sharpening skills, and practicing on mannequins before moving on to fellow aspiring colorists and actual real clients. 
In cosmetology school, you'll get honest feedback from clients while instructors oversee the process and can skillfully guide you along the way. 
Students quickly develop social skills and learn to tactfully tell a customer what will work for their complexion and hair texture. They will gain confidence in each phase of the process, from consulting the client to coloring, washing, cutting, and styling.
Being a professional colorist means having the chance to transform brassy blond hair into warming auburn or cozy chocolate. Your creativity is only stifled by the limits your clients place on you, but most clients put their complete trust in the hands of a reputable and experienced colorist.  
Equipment
If you are renting a space in a salon as a hair color specialist, then you will need to invest in quality equipment. Choosing the product range you use will be an important early decision, and you should consider product prices and any extras offered by the brand, such as training. You will also need mixing equipment, hairdryers, combs, and brushes.
Skills & Attributes
Color Knowledge
Color is light, and it follows scientific rules. A hair colorist must understand the chemistry of hair color products and the physics of color itself, including the possibilities of mixing colors and the constraints imposed by the rules of the color wheel. You will learn this kind of information in a cosmetology course.
Creativity
As well as making subtle color changes to a client's hair, a great colorist also needs a creative eye for truly striking colors. You'll also need to be able to visualize shades in conjunction with a client's skin tone, eye color, and look, to create a complimentary style. Curate an online portfolio showcasing your work across various processes and techniques to show off your skills.
People Skills
Coloring their hair is a big deal for clients; they have to trust you to make a major and sometimes permanent change to their look. A good colorist has great people skills and is able to listen to clients and interpret their wants, even if they can't really describe what they want very well! 
Organization
A hair colorist needs to be punctual and have good time-management skills. Hair coloring processes are a significant time investment for a client, often involving in-depth consultations and the process of coloring. You will need to estimate accurately how long a process will take, and stick to your time slots.
Sales Skills
To ensure you keep your schedule full with clients, you'll need to be a good salesperson, convincing clients to come back to touch up roots or try new styles. You'll also be recommending hair care products sold by the salon, an important revenue stream.
Stamina
A hair color specialist works on their feet for long hours, and the job requires good health and stamina. Your smile will have to be as big at the end of the day as at the start!
Tips and Trends
There is a spectrum of hues that a colorist can combine to formulate the most coveted shade. As a colorist, you can attain clients wanting luxurious dark shades or sunkissed blonde balayage. There are wide-ranging trends that colorists will learn through experience, staying abreast of trends, and taking in-person or online workshops. 
If you're ready to start the next stage in your life and begin a promising career as a color specialist, then request more information with Ogle Beauty School and start your new chapter in cosmetology.