COSMETOLOGY SCHOOL
ARLINGTON, TEXAS
The Ogle School Arlington campus offers morning, afternoon and evening schedules in cosmetology, including hair, skin and nails. Ogle School in Arlington has been operating for 50 years and is the oldest Ogle School campus.  It was the first Ogle School to be opened by founder, Shelton Ogle.
NEXT CLASS STARTS JUNE 12TH
Hi future beauty professional! Fill out the form below and we'll follow up with you about your goals and see if we can help you achieve them, plus you'll be able to download our guide to starting beauty school.

By submitting this form, I am providing my consent to be called, texted, and/or emailed by Ogle School at the number and/or email provided. This consent is not a condition of purchase.
FULL-TIME & PART-TIME PROGRAMS
Are you ready to pursue a career in beauty but worried about fitting it into your busy schedule? At Ogle School, we offer flexible scheduling options to fit your needs. Choose from our full-time day program or part-time morning, afternoon, or evening schedules. Plus, our classes don't interfere with your weekends, so you can keep your Saturdays and Sundays free. Worried about financing your education? We offer financial aid to those who qualify. Don't let a busy schedule or financial concerns hold you back from pursuing your passion. Apply today and start your journey to a fulfilling career in the beauty industry!
At Ogle School, our Cosmetology program offers several schedules, including morning, afternoon, and evening options. Choose full-time (7 months) or part-time (13 months) to fit your life. With a Cosmetology license, you can become a hairstylist, platform artist, salon owner, and more. Don't wait to turn your passion for beauty into a rewarding career! Fill out our form above today to get started.
Are you passionate about skincare? Look no further than Ogle School's Esthetics program! In just 5 months for full-time or 10 months for part-time, you can become a licensed esthetician. With job options like skincare specialist, salon/spa manager and beauty educator, the possibilities are endless. Ready to take the next step? Fill out the form above today to learn more about our Esthetics program.
In addition to class training, students receive invaluable practical experience in our on-campus, student-powered salons, supervised by our licensed, experienced instructors.
Ogle understands how important the decision is of where to attend school. Our goal is to make the admissions process as painless as possible for our students. We offer year-round start dates with convenient day and evening schedules to meet a variety of lifestyles. We have made it simple to learn more about our programs and start your journey towards a beautiful new career…
Prosper U is the newest, most inspiring, proven to work business training program written by Eric Fisher. This program is easy to learn, fun, engaging and best yet, it has been proven in many salons. You will learn everything from retailing, to retention, to rebooking, to building great relationships, how to gain referrals, and how to increase your average ticket. Prosper U will engage you to think past technique to how to grow your business for a lifelong career…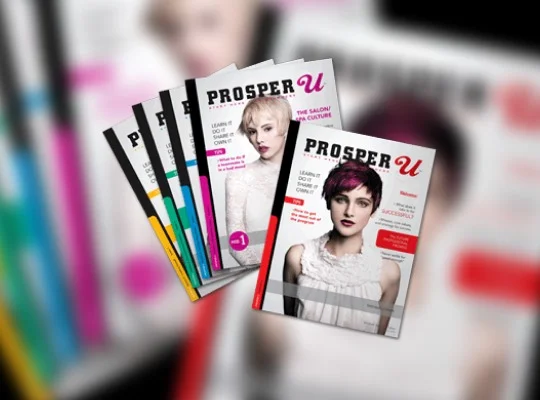 Ogle School's learning platform, Elevate,  is powered by Pivot Point International which is considered one of the premiere curriculum's in cosmetology education with millions of graduates. The curriculum teaches students to see, think, create and adapt as a beauty professional. Elevate is cutting edge digital platform that looks and feels like social media.
Education is an investment
The training you'll receive at Ogle School increases your chances of finding a great career and it decreases your chance of being unemployed. You'll be more likely to find an interesting, rewarding career in a field that offers a lot of opportunity. When you graduate from Ogle School, you stand a better chance of finding a job and making more money than your peers with less education.
Since 1973, Ogle School has prepared committed students for rewarding careers in the beauty industry through salon-modeled, student-centered training and development of the highest caliber.
Arlington's urban hustle is balanced by its beautiful open spaces; the city stands on a divide between rolling hills of oak woodlands and wide prairie views. There are a total of 82 public parks in the city to choose from, but the jewel in Arlington's green crown is River Legacy Parks, an oasis of shady walks and wildlife. Make the most of the sunny climate with walking and paddling trails along rivers, lakes and wooded hills.
Arlington started out as a small farming community, but soon became a party town known for its saloons and horse races. In the '30s and '40s it was the country's most notorious gambling destination, attracting the likes of Al Capone and Bonnie and Clyde. But these days Arlington is a sophisticated metropolitan centre, with a wealth of malls, fun parks and movie theatres.
Arlington is also home to the University of Texas at Arlington and the city's fun-lovin' student population means a college town atmosphere in the Downtown area of the city, with chic bars, great food at great prices, live music venues and clubs.
The Downtown area has been developed in recent years, with new shops and entertainment venues, and cultural events like the South Street Art Festival, a three-day event featuring over 75 artists, live music and food.
OGLE SCHOOL - ARLINGTON
ESTHETICIAN PROGRAM
After attending the licensed esthetician program at Ogle School's Arlington, TX location, you will graduate with tools needed to help you have a successful career in skincare, hair removal and professional makeup application.
Learn the technical aspects of skincare and beauty including anti-aging techniques, how to address acne, and beautification processes like dermaplaning.
In the program, you'll also develop your creativity by exploring a wide range of makeup styles and experimental techniques. This will prepare to to be on the cutting edge of today's styles and trends.
To have a successful career in esthetics, you also need a foundation in business. Whether you'll graduate and start your esthetics career with a job in the Arlington area or you intend to launch your own business, Ogle's business courses are tailored to the needs of the beauty industry.
There is a rising demand for skin care specialists and the U.S. Bureau of Labor Statistics (BLS) estimates that there will be a faster than average job growth with a 14% increase between 2016 and 2026.
In particular, Texas has the second highest employment rates for skin care specialists in the country.
Want to start your career in the beauty industry? Learn more how the student-centered training programs at Ogle School Arlington can prepare you for success as an esthetician.
FREQUENTLY ASKED QUESTIONS ABOUT THE OGLE SCHOOL ARLINGTON CAMPUS
WHAT PROGRAMS CAN I ATTEND AT THE ARLINGTON CAMPUS?
At the Arlington campus, you can take two programs: the cosmetology program or the esthetics program. There's some significant overlap between the two, but they also lead you down different career paths. Talk to an Ogle School career counselor to get information about which you might want to attend.
DOES THE ARLINGTON CAMPUS HAVE FINANCIAL AID OPPORTUNITIES?
For many people, financial aid is the difference between going to college and not going to college. Ogle School knows how important financial aid is, which is why there are a number of financial aid resources available through Ogle School. You can also learn more about scholarship opportunities.
WHAT CAN I DO TO INTEGRATE MYSELF INTO THE ARLINGTON CAMPUS LIFESTYLE?
Arlington is a steadily-growing tourist town that caters largely to families. The Arlington Ogle School campus is also the first Ogle campus, having opened over 40 years ago. The campus takes its position seriously and has a Student and Career Services Department that can help you integrate into the campus and the surrounding area more easily.
HOW DO I KNOW WHETHER THE ARLINGTON CAMPUS IS FOR ME?
Choosing a college isn't easy, and there are many things to keep in mind as you do so. When you're making this kind of big decision, it's a good idea to request more information before you make a choice. That way, you'll have a complete understanding of your options.
Arlington is a lively, growing city, part of the vibrant Texas metroplex of Dallas-Fort Worth. With a population of 374,000, Arlington is a booming town popular with tourists and convention-goers, where visitors alone spend $396 million a year. Arlington strikes a fine balance between a bustling city life and quiet suburbs. Known for its state-of-the-art entertainment and sports facilities (Texas Rangers Ballpark) , it's a clean, safe, family-orientated city. And it's a stress-free 15 minutes from Dallas-Ft. Worth airport, the second largest in the USA.
BEAUTY HISTORY OF ARLINGTON
Texas is one of the beauty centers of the USA, and beauty has been big business in Arlington since the first barbershops opened here when the town was young. The beauty industry has been a choice career for young women and men in Arlington for half a century – in 1973, Shelton Ogle, the founder of Ogle Schools, opened his second salon and his first beauty school in Arlington when he was just 23, seeing that the city had the potential to employ more trained beauty practitioners.
Beauty pageants have been at the glamorous heart of Texas culture since 1935, sending young girls and women on to success in national competitions, and sometimes to fame. (Did you know Eva Longoria and Phyllis George were former Miss Texas crown-wearers?)
Arlington is the proud home of the famous Miss Texas pageant, a preliminary heat for the nationwide Miss America competition. Other pageant companies also run local events, including Paramount Pageants, based in Arlington, who stage their American Baby Pageant and Texas Perfect Pageant, a pre-teen event described as a classic pageant meets America's Next Top Model. And there's the Dazzling Beauties State Pageant that comes to town once a year too.
But there's much more to the Arlington beauty scene than pageants. With two convention centers, two modern stadium complexes and a wealth of hotels, Arlington is a convention destination of choice. You'll find fashion shows like the Private Affair Fashion Show, beauty product expos, and wedding events like the Soiree Rangers Ballpark Bridal Show, held over 3 floors in the Rangers stadium, with product stands and bridal fashion shows on offer.
A beautiful career starts here
Hi future beauty professional! We can't wait to speak you. Fill out the form below and we'll get you the information you need.
By submitting this form, I am providing my consent to be called, texted, and/or emailed by Ogle School at the number and/or email provided. This consent is not a condition of purchase.